My beautiful son Jake (10) proved he could overcome his own nemesis in style today - bringing home a brilliant bulletin (school report). He's had a tough time since the fire that burned down our house last year - and connected or not - his grades have suffered too.
Goaaaaaaaaaaaallllll !!!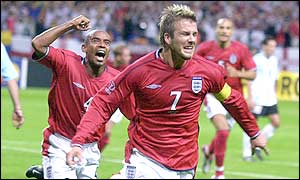 But today he bounced out of class, having returned to winning ways. He may not have the finesse of "Goldenballs" on the pitch, but he's every bit as brave, and an awful lot more cleverer, and I'm very proud of him. Well done Jake!